15 mins
294 m Return

21 m

Moderate track
This short walk explores a piece of the Royal National Park, with lovely wildflowers in spring, and some great sandstone rock formations. The main highlight is the creek. Flat Rock Creek, as the name suggests, has a solid and flat bed. The rock is red in colour and the water flows across the width of the creek. This spot is great on a sunny day to contrast the blue sky with the red rock.
(0km) Flat Rock Creek Car Park → Flat Rock Creek

150 m

3 mins

0m

-21m

Moderate track
From the Flat Rock Creek car park (West of Flat Rock Creek bridge, 6.6KM south of Audley on Sir Bertram Stevens Dr), this walk follows the track past the 'Flat Rock Creek' sign. Following the arrow down the rock the walk then winds through the bush passing some interesting rock formations and views of the creek. Just near the creek the track heads right to come to the bank of Flat Rock Creek. (The creek may be impassable after rain, and is slippery).
Flat Rock Creek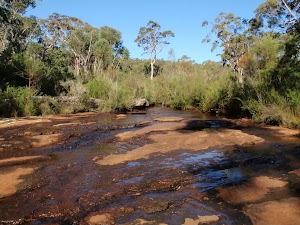 Flat Rock Creek is found south east of Audley and flows north under Sir Bertram Stevens Drive. In places the water is wide and shallow as it flows across the solid flat rock bed. The red rock and the shallow creek make for a very interesting environment. It is a nice cools spot to visit on hot days.
Maps for the Flat Rock Creek walk
You can download the PDF for this walk to print a map.
These maps below cover the walk and the wider area around the walk, they are worth carrying for safety reasons.
| | | | |
| --- | --- | --- | --- |
| Port Hacking | 1:25 000 Map Series | 91294N PORT HACKING | NSW-91294N |
| Port Hacking | 1:100 000 Map Series | 9129 PORT HACKING | 9129 |
Cross sectional view of the Flat Rock Creek bushwalking track
Analysis and summary of the altitude variation on the Flat Rock Creek
Overview of this walks grade
– based on the AS 2156.1 – 2001
Under this standard, a walk is graded based on the most difficult section of the walk.
Length
294 m
Time
15 mins
.




Grade 3/6



Moderate track

AS 2156.1

Gradient
Short steep hills (3/6)
Quality of track
Formed track, with some branches and other obstacles (3/6)
Signs
Directional signs along the way (3/6)
Experience Required
Some bushwalking experience recommended (3/6)
Weather
Weather generally has little impact on safety (1/6)
Infrastructure
Limited facilities, not all cliffs are fenced (3/6)
Some more details of this walks Grading
Here is a bit more details explaining grading looking at sections of the walk
Gradient
This whole walk, 150m has short steep hills.
Quality of track
This whole walk, 150m follows a formed track, with some branches and other obstacles.
Signs
This whole walk, 150m has directional signs at most intersection.
Experience Required
This whole walk, 150m requires some bushwalking experience.
weather
This whole walk, 150m is not usually affected by severe weather events (that would unexpectedly impact safety and navigation).
Infrastructure
This whole walk, 150m has limited facilities (such as not all cliffs fenced).
Similar walks
A list of walks that share part of the track with the Flat Rock Creek walk.
Other Nearby walks
A list of walks that start near the Flat Rock Creek walk.
Plan your trip to and from the walk here
The Flat Rock Creek walk starts and ends at the Flat Rock Creek Car Park
(gps: -34.114214, 151.06622)
Your main transport option to Flat Rock Creek Car Park is by;
Car. A park entry fee is required for driving into the park.
(get details)
Fire Danger
Each park may have its own fire ban, this rating is only valid for today and is based on information from the
RFS
Please check the
RFS Website
for more information.
Park Information & Alerts
Short URL =
http://wild.tl/frc
Gallery images
There are other downloads I am still working on.
You will probably need to login to access these — still all free.
* KML (google earth file)
* GPX (GPS file)
Special Maps/ brochures
* A3 topo maps
* PDF with Lands Topo map base
* PDF with arial image (and map overlay)
I wanted to get the main site live first, this extra stuff will come in time.
Happy walking
Matt 🙂