Bushwalks in the Sydney Region : Volume 1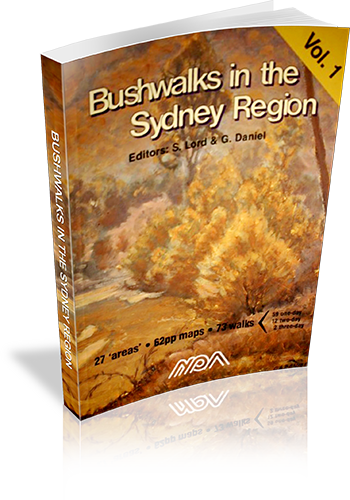 Title
: Bushwalks in the Sydney Region : Volume 1 
Author
: Ed: Stephen Lord,Ed: George Daniel
Edition
: 3
Publisher
: National Parks Association of New South Wales Inc
ISBN
: 0959916075
Number of pages
: 112
Year of Publication
: 2000
Cover Price (au$)
: 14.95
Format
: Paperback
Website
: 
http://www.npansw.org.au/website/index.php?option=com_wrapper&Itemid=418
Weight (grams)
: 220
Regions the book covers
: Sydney and surrounds
Height (cm)
: 25
Subjects
: 
Hiking - New South Wales - Sydney Region - Guidebooks,Sydney Region (N.S.W.) - Guidebooks
Authors Comments
: 
THESE BOOKS (vols 1&2) are the results of the efforts of volunteers to produce two new walks books which would describe interesting walks in the Sydney region and raise funds for NPA.
THE SYDNEY REGION: Nominated as an area within 110km radius from Sydney. It includes:- Frazer Park to the N – Glen Davis to the NW – Jenolan Caves & Kanangra Walls to the W – Yerranderie to the SW – and the Northern Part of Morton NP & [nr] Nowra in the SSW.
THE WALKS are generally those not covered by other walks books however some classic walks are included such as Valley of the Waters and Blue Gum Forest. There are some walks that have not previously been described. Volume 1 has 93 walks and Volume 2 has 80 walks.
THE MAPS are of 1:25000 scale which we considered the minimum for the detail required. Most one day walks fit on a single page map. [The small pocket sized book philosophy was just not good enough]. All maps have True North up and include a compass variation/bearing aid diagram. All maps have a key included. All maps show km guide marks along the route. Spot heights are shown (in metres above sea level) at significant places. Most maps are within 1 page of their respective walk descriptions. Rivers and creeks have direction of flow shown. All maps are in two colours. In many cases the maps and track notes will save having to obtain NP&WS pamphlets, or other maps.
THE TRACK NOTES (DESCRIPTIONS). By using several techniques, we fit more text per page than other similar sized books. The notes give directions for getting to starting point of each walk; they also mention where to obtain water, where navigation care is required, (with detailed help), point out where hazards are, and even mention good places to stop for lunch etc.
PAPER: The books are printed on paper from sustainable forests. Book size is approx 250x175x10mm thick.
PROCEEDS, all go to support NPA projects and activities.
Niche: Many walks in Sydney and surrounding regions.
Interpretive Information: Minimal
Grade system explained: No
Ascent and/or Decent provided: Yes
Driving directions provided: No
Date walks last reviewed provided: No
A summary of walks provided: Yes
Regional Map of walks provided: No
Maps designed for walking: Yes - reasonable detail
Type of maps used (for walking): Sketch
Colour used in walking maps: Black and White
Size of walking maps: Full page
Walking map Comment: A few walks refer to each map, and a number of walks cross between two maps.
Colour depth of photos: None
Level of detail in tracknotes: Detailed route information
Alternate route and side trip suggestions: Some walks
---
List of walks in book
| Walk Name | Length | Time | Grade | Page |
| --- | --- | --- | --- | --- |
| Bairne Trail - Portuguese Beach - The Basin | 13 km | | M | 9 |
| Canoelands- Gentlemans Halt | 19 km | | M | 9 |
| Towlers Bay Track - Birnie Lookout | 8 km | | E | 12 |
| Elvina Bay Circuit | 5 km | | E | 12 |
| Mt Kuring-Gai - Berowra via Cowan Creek | 8 km | | EM | 13 |
| The Sphinx- Bobbin Head- Mt Kuring-Gai | 10 km | | EM | 13 |
| Mt Kuring-Gai- Berowra via Berowra Creek | 8 km | | EM | 16 |
| Manly to The Spit | 9 km | | E | 18 |
| Garie Beach- Garrawarra- Burning Palms | 10 km | | EM | 20 |
| Curra Moors - Curracurrong | 9 km | | E | 20 |
| Heathcote- Heathcote Creek- Waterfall | 11 km | | EM | 23 |
| Campbell Drive - Wybung Head- Frazer Beach | 10 km | | E | 24 |
| Timber, Ghosties and Moonee Beaches | 5 km | | E | 24 |
| Bateau Bay- Wyrrabalong Head- Wamberal | 14 km | | EM | 27 |
| Red Gum and Lillypilly Loop Trails | 6 km | | E | 27 |
| Killcare- Box Head- Lobster Beach | 10 km | | E | 29 |
| Maitland Bay - Putty Beach Circuit | 9 km | | E | 29 |
| Abbotts Falls | 7 km | | E | 31 |
| Koolewong Ridge | 10 km | | EM | 36 |
| Staples Lookout - Kariong Brook | 11 km | | E | 39 |
| Wondabyne- Pindar Cave | 12 km | | EM | 39 |
| Mooney Mooney Creek Circuit | 12 km | | M | 41 |
| Wondabyne- Yarramalong Section GNW | 49 km | 3 Days | M | 41 |
| Mill Creek Circuit | 7 km | | EM | 47 |
| Colo River via Bob Turners Track | 7 km | | EM | 50 |
| Mountain Lagoon - Colo River Gorge View | 10 km | | E | 50 |
| Mountain Lagoon- Mailes Ridge- Colo River | 24 km | 2 Days | M | 53 |
| Wolgan Valley- Glow Worm Tunnel | 10 km | | EM | 53 |
| Newnes to Glen Davis via the Pipeline Track | 21 km | 2 Days | M | 55 |
| Newnes - Wolgan River- Rocky Creek - Annie Rowan Creek | 43 km | 3 Days | M | 58 |
| Hawkesbury Height - Shaws Creek | 7 km | | EM | 61 |
| Winmalle - Grose Mountain | 15 km | | EM | 61 |
| Glenbrook Gorge | 6 km | | M | 63 |
| Lapstone Zig Zag Railway | 8 km | | E | 63 |
| Red Hands Cave Circuit | 9 km | | E | 66 |
| Red Hands Cave Road to Kanuka Brook (Crayfish Pool) | 2 km | | E | 66 |
| Glenbrook- St. Helena Crater- Springwood | 21 km | 2 Days | EM | 68 |
| Pisgah Rock - Erskine Creek - Dadder Cave | 5 km | | EM | 68 |
| Erskine Creek via Jack Evans Track | 6 km | | E | 70 |
| Caleys Lookout- Mt Banks- Banks Wall | 11 km | | EM | 72 |
| Warragamba - Nepean River - Nortons Basin | 12 km | | EM | 72 |
| Govetts Leap - Blue Gum Forest - Perrys Lookdown | 20 km | 2 Days | M | 74 |
| Govetts Leap to Pulpit Rock | 6 km | | E | 74 |
| Lockley Track - The Pinnacles - Lockley Pylon | 8 km | | EM | 76 |
| Vera Falls - Hippocrene Falls - Wentworth Pass | 5 km | | M | 78 |
| Wentworth Falls - Undercliff Walk - National Pass | 4 km | | E | 78 |
| Golden Stairs - Castle Head | 7 km | | E | 80 |
| Carlon's Farm - Bellbird Point | 6 km | | E | 82 |
| Golden Stairs - Ruined Castle - Mt Solitary | 15 km | | M | 82 |
| Carlon's Farm - Medlow Gap - Mt Mouin | 19 km | | M | 83 |
| Carlon's Farm - Medlow Gap - Taros Ladder | 21 km | | M | 83 |
| Carlon's Farm - Coxs River - Jenolan River - Ironmonger Hill | 19 km | 2 Days | M | 87 |
| Carlon's Farm Splendour Rock - Knights Deck - Coxs River | 31 km | 2 Days | M | 87 |
| Carlon's Farm - Mt Yellow Dog - Coxs River - Konangaroo Clearing | 36 km | 2 Days | MH | 88 |
| Kanangra Walls - Crafts Wall - Pages Pinnacle - Mt Berry | 13 km | | EM | 89 |
| Kanangra Walls - Cottage Rock | 9 km | | EM | 91 |
| Kanangra Walls - Gingra Creek - Kowmung River - Gingra Range | 34 km | 2 Days | H | 94 |
| Kanangra Walls - Brumby Ridge - Kowmung River | 20 km | 2 Days | M | 96 |
| Kanangra Walls - Hughes Ridge - Kowmung River - Roots Ridge | 27 km | 2 Days | M | 96 |
| Yerranderie - Yerranderie Peak | 4 km | | M | 97 |
| Yerranderie - Colong Gap | 7 km | | EM | 99 |
| Yerranderie - Tonalli River | 5 km | | E | 99 |
| Thirlmere Lakes - Blue Gum Creek - Little River | 15 km | | EM | 101 |
| Starlights Track - Nattai River - Russells Needle | 16 km | | M | 101 |
| Nattai River- Beloon Pass | 25 km | 2 Days | MH | 103 |
| Macquarie Rivulet | 9 km | | M | 107 |
| Meryla Pass - Yarrunga Creek | 16 km | 2 Days | EM | 107 |
| Clover Hill Rd - Macquarie Rivulet | 7 km | | M | 109 |
| Macquarie Rivulet Tributary | 6 km | | M | 109 |
| Cartington Falls | 5 km | | E | 111 |
| Gerringong Falls | 7 km | | E | 111 |