Blue Mountains Best Bushwalks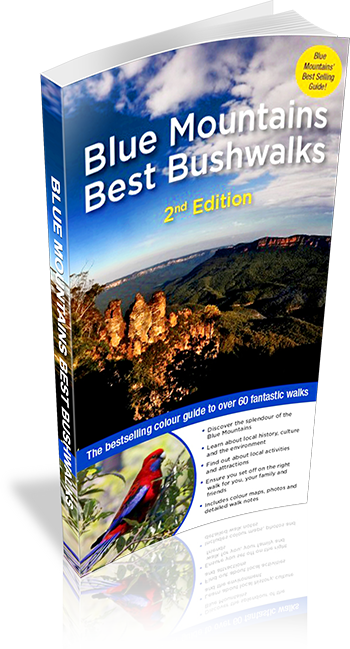 Title
: Blue Mountains Best Bushwalks
Author
: Veechi Stuart
Edition
: 2
Publisher
: Woodslane Press
ISBN
: 9781921606243
Number of pages
: 234
Year of Publication
: 2010
Cover Price (au$)
: 29.95
Format
: Paperback
Website
: 
http://www.woodslane.com.au/
Weight (grams)
: 400
Regions the book covers
: Blue Mountains
Height (cm)
: 22
Subjects
: 
Hiking - New South Wales - Blue Mountains Region - Guidebooks, Nature trails - New South Wales - Blue Mountains Region - Guidebooks, Blue Mountains (N.S.W. : Mountains) - Guidebooks
Authors Comments
: 
In Blue Mountains Best Bushwalks, Veechi Stuart, local author and resident of 20 years, combined her professional writing skills with her passion for bushwalking. In her choice of the best bushwalks, she includes not only the classic walks listed in many guidebooks, but also the quieter tracks that few know exist, as well as some of the more historic walks that are in danger of being forgotten. Veechi, and local nature photographer Scott Townsend, complement these detailed descriptions with over 150 full-colour photos, and detailed full-colour maps also accompany almost all the walks. Blue Mountains Best Bushwalks includes a range of walks from 30 minute strolls to 2-day overnight adventures, and is full of suggestions for parties of differing experience. If you love to get out and about then this is a book for you, regardless of your fitness level or bushwalking experience. This 2nd edition has been updated with all walks re-walked and amended as required, and includes a new section, "Further Afield", detailing some of the best walks just outside the core area of the Blue Mountains in places such as Jenolan Caves and Mt Wilson, plus a new atlas section so you will easily find the start of each walk. 
Interpretive Information
: Plenty
Grade system explained
: Yes
Ascent and/or Decent provided
: Yes
Driving directions provided
: Yes
Date walks last reviewed provided
: No
A summary of walks provided
: Yes
Regional Map of walks provided
: Yes
Maps designed for walking
: Yes - reasonable detail
Type of maps used (for walking)
: Simple Topographic
Colour used in walking maps
: Multicolour
Size of walking maps
: Half page
Colour depth of photos
: Colour
Comment on Photographs
: Lots of good colour photos throughout
Level of detail in tracknotes
: Detailed route information
Alternate route and side trip suggestions
: Many walks
---
List of walks in book
| Walk Name | Length | Time | Grade | Page |
| --- | --- | --- | --- | --- |
| Looking out from Mt York | 1 km | 30 mins | Easy | 14 |
| Forest at Fairy Bower | 2.7 km | 1 hr 30 mins | Medium | 16 |
| Bushrangers on the Zig Zag Track | 3 km | 2 hrs | Medium | 19 |
| Solitude at Asgard Swamp | 5.6 km | 2 hrs 30 mins | Medium | 22 |
| Historic Mountain Passes | 9.5 km | 4 hrs | Medium/Hard | 24 |
| Swimming at Victoria Falls | 3.6 km | 2 hrs 30 mins | Hard | 28 |
| A Sublime Point | 400 m | 15 mins | Easy | 28 |
| Overnight in the Blue Gum Forest | 15 km | 2 Days | Very Hard | 29 |
| Lonely Lookouts at Pulpit Rock | 850 m | 30 mins | Easy | 36 |
| Family fun on the Fairfax Track | 2.2 km | 1 Hr | Easy | 38 |
| Aboriginal heritage at Walls Cave | 1.4 km | 1 hr 15 mins | Easy/Medium | 40 |
| Cliff top Track to Govetts Leap | 4 km | 1 hr 45 mins | Medium | 42 |
| Cliff top Track to Evans Lookout | 2.75 km | 1 hr 15 mins | Medium | 44 |
| Cliff top Track (Pulpit Rock to Evans Lookout) | 6.75 km | 3 hrs | Medium | 46 |
| Grand Canyon circuit | 5.5 km | 3 hrs 30 mins | Medium/Hard | 47 |
| Mystery tour of Porters Pass | 5.5 km | 2 hrs 45 mins | Medium | 50 |
| Birdlife at Popes Glen | 7.8 km | 4 hrs | Medium | 54 |
| Cliff descent down to Govetts Leap | 1.5 km | 1 hr 30 mins | Hard | 57 |
| Discovering the Grose Valley | 11 km | 6 hrs 30 mins | Very Hard | 60 |
| A short walk for young children | 600 m | 15 mins | Very Easy | 68 |
| Katoomba by night | 1 km | 30 mins | Easy/Medium | 70 |
| Picnics and play at Minnehaha Falls | 2.7 km | 1 hr 30 mins | Easy/Medium | 72 |
| Walking the cliffs from Scenic World | 2.3 km | 1 hr 15 mins | Easy | 74 |
| Along the cliffs from the Three Sisters | 4.1 km | 2 hrs | Easy/Medium | 76 |
| The Prince Henry Cliff Walk | 8.8 km | 4 hrs | Medium | 79 |
| Descending the Three Sisters | 4 km | 2 hrs | Medium | 80 |
| Narrow canyon of Devils Hole | 1.2 km | 1 hr 30 mins | Hard | 84 |
| Historic Federal Pass | 14.4 km | 7 hrs | Very Hard | 86 |
| Creeks and pools at Lyrebird Dell | 1.4 km | 1 Hr | Easy | 93 |
| Rainforest, cascades and lookouts | 2.4 km | 1 hr 30 mins | Easy | 96 |
| An easy walk to Moya Point | 2.7 km | 1 hr 30 mins | Easy | 100 |
| The wild landscape of Fortress Rock | 3 km | 1 hr 30 mins | Easy | 102 |
| Grand Cliff top track to Wentworth Falls | 2.3 km | 1 hr 30 mins | Easy/Medium | 104 |
| Wildflowers and wind at Lockley Pylon | 7.8 km | 3 hrs | Medium | 107 |
| Cool rainforest at Fern Bower | 1.75 km | 2 hrs 30 mins | Medium | 110 |
| Picnics and train rides on the Federal Pass | 5.25 km | 3 hrs | Medium/Hard | 113 |
| View from Princes Rock | 1 km | 30 mins | Easy | 118 |
| Ancient perspectives from Kings Table | 1 km | 1 Hr | Easy | 120 |
| Charles Darwin Trail | 2.6 km | 1 hr 30 mins | Easy | 122 |
| Wentworth Falls and Rocket Point | 1.9 km | 1 Hr | Easy/Medium | 125 |
| Secluded Pools on the Nature Track | 3.1 km | 1 hr 45 mins | Medium | 128 |
| Cliff top circuit | 3.5 km | 2 hrs | Medium | 131 |
| Creeks and cliffs to the Conservation Hut | 4.3 km | 2 hrs 30 mins | Medium | 134 |
| The National Pass | 4.8 km | 3 hrs | Medium/Hard | 136 |
| Ladders and forests of Wentworth Pass | 5.6 km | 4 hrs 30 mins | Hard | 139 |
| Hidden secrets of Roberts Pass | 5.5 km | 3 hrs 15 mins | Hard | 143 |
| Wentworth, Hippocrene and Vera Falls | 7.3 km | 6 hrs | Very Hard | 147 |
| Picnics on Waterfall Circuit | 3 km | 1 hr 30 mins | Easy | 154 |
| Dreamy beauty of Terrace Falls | 2.8 km | 1 hr 30 mins | Easy | 157 |
| Martins Lookout to Lost World | 6.3 km | 3 hrs | Medium/Hard | 160 |
| Bellbirds at Sassafras Gully | 6.6 km | 3 hrs | Medium | 164 |
| Creek circuit on Wiggins Track | 4.8 km | 2 hrs 30 mins | Medium | 168 |
| Swimming holes on Glenbrook Creek | 8.9 km | 4 hrs | Medium/Hard | 170 |
| Blue Gum Swamp | 9 km | 5 hrs | Medium/Hard | 174 |
| Bird's-eye view from Nepean Lookout | 1.4 km | 40 mins | Easy | 180 |
| Bird's-eye view from Nepean Lookout | 1.4 km | 40 mins | Easy | 180 |
| Kangaroos at Euroka | 3.2 km | 1 hr 30 mins | Easy | 183 |
| Rockhopping at Jellybean Pool | 2 km | 1 hr 30 mins | Medium | 186 |
| Yabbies and picnics at Crayfish Pool | 1.8 km | 1 hr 10 mins | Medium | 188 |
| Winter sun on Jack Evans Track | 2.5 km | 1 hr 30 mins | Medium | 190 |
| Rock art at Red Hands Cave | 4 km | 2 hrs | Easy | 194 |
| Camp Fire Creek to Red Hands Cave | 9.2 km | 4 hrs | Medium | 196 |
| Secrets of Florabella Pass | 6.2 km | 3 hrs 30 mins | Medium/Hard | 199 |
| Offtrack adventure along Glenbrook Creek | 9.5 km | 7 hrs | Hard | 203 |
| Glowworms, Canyons and railways | 10.5 km | 5 hrs | Medium | 208 |
| Canyons at Wallangambe | 6.3 km | 3 hrs | Hard | 212 |
| Natural wonders of Jenolan Caves | 2 km | 1 Hr | Easy | 215 |